---
Secretary Hu Xiaojun led a team to carry out pre New Year's Day safety inspections
2020年12月31日,深圳湾实验室党委书记胡晓军率队对高科创新中心、坪山生物医药研发转化中心开展"元旦"节前安全巡查。        胡晓军书记一行先后对高科创新实验区域、办公区域、坪山生物医药研发转化中心实验区域等进行实地安全巡查,了解"元旦"前各项安全措施落实情况,并与员工进行亲近的访谈。        胡晓军书记强调,一是各研究所/中心、部门在"元旦"前要切实落实好各项安全措施,重点关注化学试剂、消防、用电等方面安全,在假期前要清理废弃纸箱等可燃物质,关闭非必要连续供电的电源;二是要加大安全检查力度,及时发现并消除安全隐患;三是要做好节假日期间人员值班安排,增加节假日期间巡查频次。他表示,过去的一年,在全体员工共同努力下,深圳湾实验室取得一定成绩,在来年发展也将会更加辉煌。走访过程中,他向员工致以节日问候和新春祝福。        深圳湾实验室综合部、平台部等有关人员陪同巡查。   撰稿 | 平台部 吴帅   摄影 | 姬 二   编辑 | 鍮 鍮On December 31, 2020, Hu Xiaojun, Secretary of the Party Committee of Shenzhen Bay Laboratory, led a team to conduct a pre New Year's Day safety inspection of the High Tech Innovation Center and Pingshan Biomedical Research and Development Transformation Center. Secretary Hu Xiaojun and his delegation conducted on-site safety inspections on the high-tech innovation experimental area, office area, and Pingshan Biomedical Research and Transformation Center experimental area, to understand the implementation of various safety measures before the New Year's Day, and conducted close interviews with employees. Secretary Hu Xiaojun emphasized that firstly, all research institutes/centers and departments should effectively implement various safety measures before the "New Year's Day", focusing on the safety of chemical reagents, fire protection, electricity, and other aspects. Before the holiday, combustible materials such as discarded cardboard boxes should be cleaned up, and unnecessary continuous power supply should be turned off; Secondly, we need to increase the intensity of safety inspections, promptly identify and eliminate safety hazards; Thirdly, it is necessary to arrange personnel on duty during holidays and increase the frequency of inspections during holidays. He stated that in the past year, with the joint efforts of all employees, Shenzhen Bay Laboratory has achieved certain results, and its development will be even more brilliant in the coming year. During the visit, he extended holiday greetings and New Year greetings to the employees. Personnel from the Comprehensive Department and Platform Department of Shenzhen Bay Laboratory accompanied the inspection. Author | Wu Shuai from the Platform Department Photography | Ji Er Edit | B and B
---
On December 2020, 12, Hu Xiaojun, Secretary of the Party Committee of Shenzhen Bay Laboratory, led a team to carry out a "New Year's Day" pre-holiday safety inspection of the Hi-Tech Innovation Center and Pingshan Biomedical R&D and Transformation Center.
Secretary Hu Xiaojun and his entourage successively conducted on-site safety inspections in the high-tech innovation experimental area, office area, and experimental area of Pingshan Biomedical R&D and Transformation Center, to understand the implementation of various safety measures before "New Year's Day", and conducted close interviews with employees.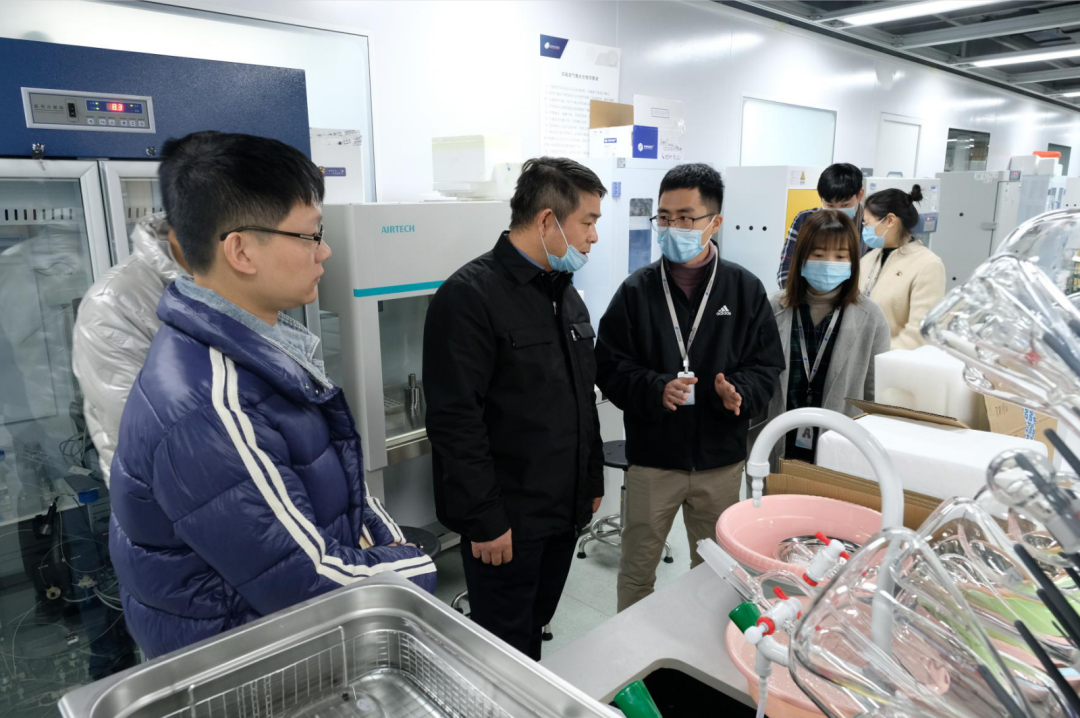 Secretary Hu Xiaojun emphasized that, first, all research institutes/centers and departments should effectively implement various safety measures before "New Year's Day", focusing on the safety of chemical reagents, fire protection, electricity use, etc., clean up combustible substances such as waste cartons before the holiday, and turn off the power supply of unnecessary continuous power supply; Second, it is necessary to increase the intensity of safety inspections and timely discover and eliminate potential safety hazards; The third is to make arrangements for personnel on duty during holidays and increase the frequency of inspections during holidays. He said that in the past year, with the joint efforts of all employees, Shenzhen Bay Laboratory has achieved certain achievements, and its development will be more brilliant in the next year. During the visit, he extended holiday greetings and Chinese New Year wishes to employees.
Shenzhen Bay Laboratory Comprehensive Department, Platform Department and other relevant personnel accompanied the inspection.
Written by | Platform Department Wu Shuai
Photography | Ji II
Edit