---
Cooperation for development | Pingshan Center signed a memorandum of cooperation with the School of Pharmacy of Shenzhen Technology University
12月24日下午,坪山中心与深圳技术大学药学院在国富文化广场14楼签署了合作备忘录。备忘录从两方面制定了双方今后一段时期的合作内容:第一,建立人才交流合作平台,大力推进本科生、研究生、博士后联合培养工作,广泛利用已建立的国际化学术和人才交流网络,加强技术、人才对接与互补,加强国际化复合型人才培养与交流;第二,建立长效创新合作机制,定期举办年度研讨会,学术研讨会、创新专题论坛等活动,联合承担各级各类科技攻关项目,加强创新链、产业链、金融链有机融合,推动科技成果转移转化。          备忘录签署之前,深圳技术大学药学院院长贺震旦教授带领团队成员参观了坪山中心生物实验室和化学实验室,随后双方核心团队成员进行了一次交流座谈会。在会上,贺院长介绍了药学院成立的背景、首届招生,以及计划的平台建设和专业设置等情况。坪山中心执行主任李子刚教授表示全力支持药学院的创建,将在仪器平台建设和人才队伍建设等方面提供帮助。          坪山中心与深圳技术大学药学院有着天然的合作基础。双方都坐落于坪山,互为近邻,研究方向存在一致性,未来有很多方向可以开展合作,通过发挥各自优势,积极组织,整合资源,打造富有活力的以创新驱动为核心竞争力的智创平台,共同完善创新医疗技术的区域生态链,促使坪山区生物医药产业的发展更上一层楼。          图片|陈龙剑   文字|陈龙剑   编辑|陈龙剑   出品|PTMC文化创意工作室On the afternoon of December 24, Pingshan Center and the School of Pharmacy of Shenzhen Technology University signed a memorandum of cooperation at the 14th floor of Guofu Cultural Plaza. The memorandum sets out the cooperation content for the two sides in the future from two aspects: firstly, establish a talent exchange and cooperation platform, vigorously promote the joint training of undergraduate, graduate, and postdoctoral students, widely utilize the established international chemistry and talent exchange network, strengthen technology and talent docking and complementarity, and strengthen the cultivation and exchange of international composite talents; Second, establish a long-term innovation cooperation mechanism, regularly hold annual seminars, Academic conference, innovation forums and other activities, jointly undertake various scientific and technological research projects at all levels, strengthen the organic integration of innovation chain, industrial chain and financial chain, and promote the transfer and transformation of scientific and technological achievements. Before signing the memorandum, Professor He Zhendan, Dean of the School of Pharmacy of Shenzhen Technology University, led the team members to visit the Pingshan Central Biological Laboratory and Chemical Laboratory, and then the core team members of both sides held an exchange forum. At the meeting, Dean He introduced the background of the establishment of the School of Pharmacy, the first enrollment, as well as the planned platform construction and professional settings. Professor Li Zigang, Executive Director of Pingshan Center, expressed full support for the establishment of the School of Pharmacy and will provide assistance in the construction of instrument platforms and talent teams. Pingshan Center has a natural cooperation foundation with the School of Pharmacy of Shenzhen Technology University. Both sides are located in Pingshan, adjacent to each other, and there is consistency in their research directions. In the future, there are many directions for cooperation. By leveraging their respective advantages, actively organizing, integrating resources, and creating a vibrant innovation driven intelligent innovation platform, we can jointly improve the regional ecological chain of innovative medical technology, and promote the development of the biopharmaceutical industry in Pingshan District to a higher level. Picture | Chen Longjian Text | Chen Longjian Editor | Chen Longjian Production | PTMC Cultural and Creative Studio
---
On the afternoon of December 12, Pingshan Center and the School of Pharmacy of Shenzhen University of Technology signed a memorandum of cooperation on the 24th floor of Guofu Cultural Square. The memorandum of understanding sets out the cooperation content of the two sides in the coming period from two aspects: first, establish a talent exchange and cooperation platform, vigorously promote the joint training of undergraduates, graduate students and postdoctoral fellows, make extensive use of the established international academic and talent exchange network, strengthen the docking and complementarity of technology and talents, and strengthen the training and exchange of international compound talents; Second, establish a long-term innovation cooperation mechanism, regularly hold annual seminars, academic seminars, innovation thematic forums and other activities, jointly undertake various scientific and technological research projects at all levels, strengthen the organic integration of innovation chain, industrial chain and financial chain, and promote the transfer and transformation of scientific and technological achievements.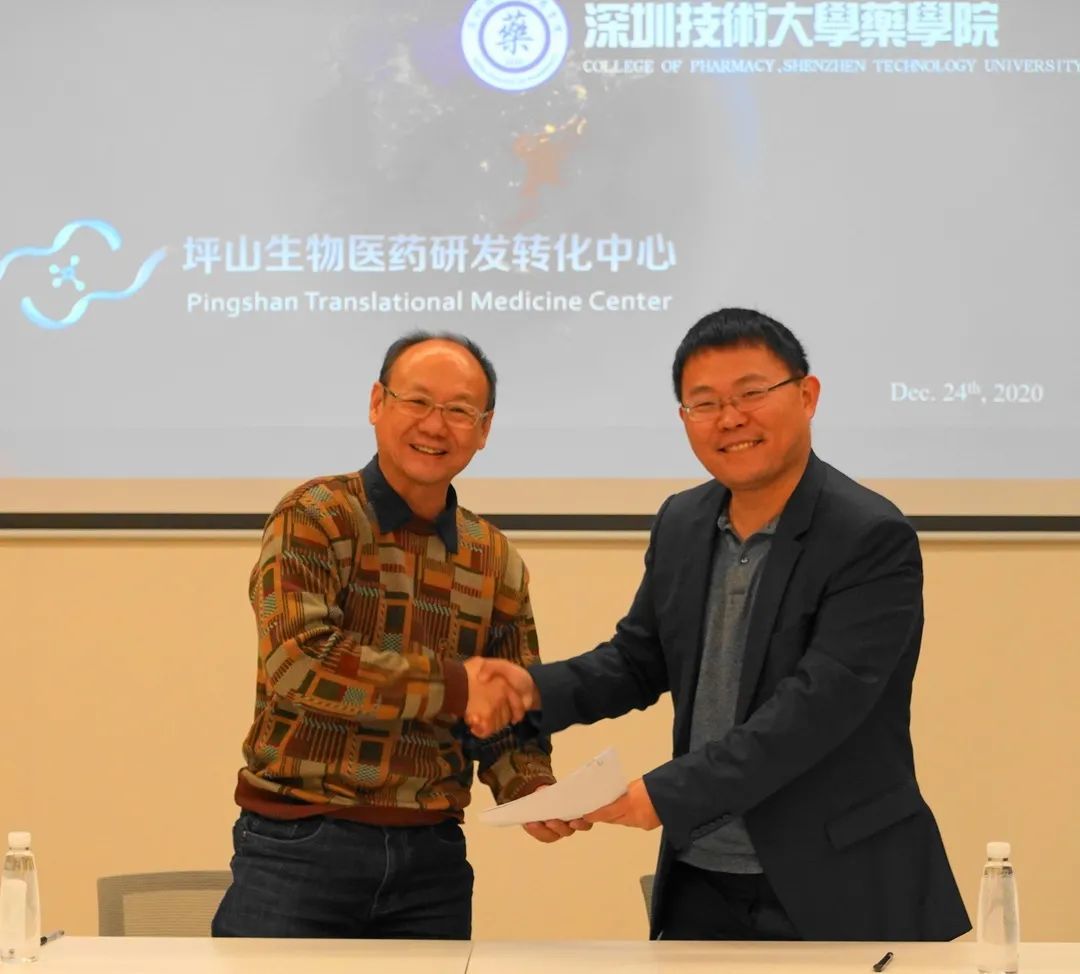 Before the signing of the MOU, Professor He Zhuangdan, Dean of the School of Pharmacy of Shenzhen University of Technology, led the team members to visit the biology laboratory and chemistry laboratory of Pingshan Center, and then the core team members of the two sides held an exchange seminar. At the meeting, Dean He introduced the background of the establishment of the School of Pharmacy, the first enrollment, and the planned platform construction and professional settings. Professor Li Zigang, Executive Director of Pingshan Center, expressed his full support for the establishment of the School of Pharmacy and will provide assistance in the construction of instrument platform and talent team.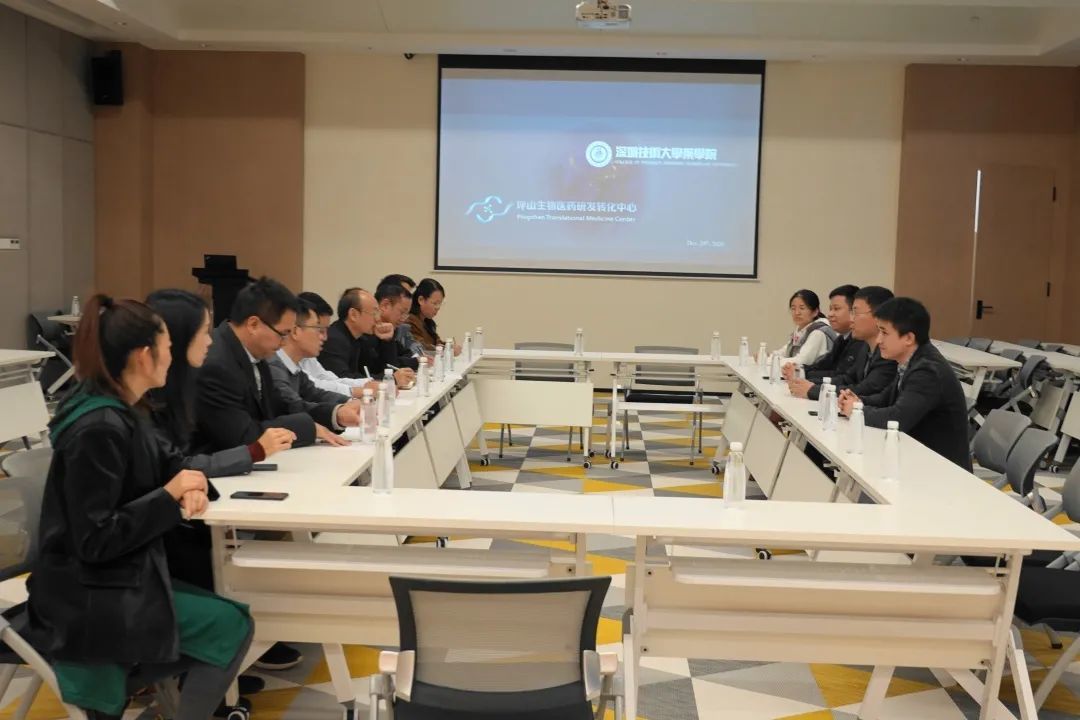 Pingshan Center has a natural foundation for cooperation with the School of Pharmacy of Shenzhen University of Technology. Both sides are located in Pingshan, close neighbors to each other, there is consistency in research directions, there are many directions to cooperate in the future, through giving full play to their respective advantages, actively organizing, integrating resources, creating a dynamic innovation-driven intelligent innovation platform with innovation-driven as the core competitiveness, jointly improving the regional ecological chain of innovative medical technology, and promoting the development of biomedical industry in Pingshan District to a higher level.
Picture | Chen Longjian
Text|Chen Longjian
Editor|Chen Longjian
Produced |PTMC Cultural Creative Studio